Cold-pressed, Virgin

Regular price

Sale price

AED 65

Unit price

per

Sale

Sold out

Sweet Almond Oil is an extraordinary gift for wellness and beauty. It offers excellent emollient, regenerative, hydrating, and soothing properties. Used on hair, it soothes dry & irritated scalp and promotes hair growth. It is also an excellent choice for baby massage.
Ingredients: 100% Organic Prunus Amygdalus Dulcis Oil
Crop Source: Spain
Extraction: Our Almond Oil is carefully extracted using cold-pressed method, with no further processing, deodorizing, or decolorizing, to preserve its natural nutrients Applications: Skin Care, Hair Care, Baby, Wellness
Share
View full details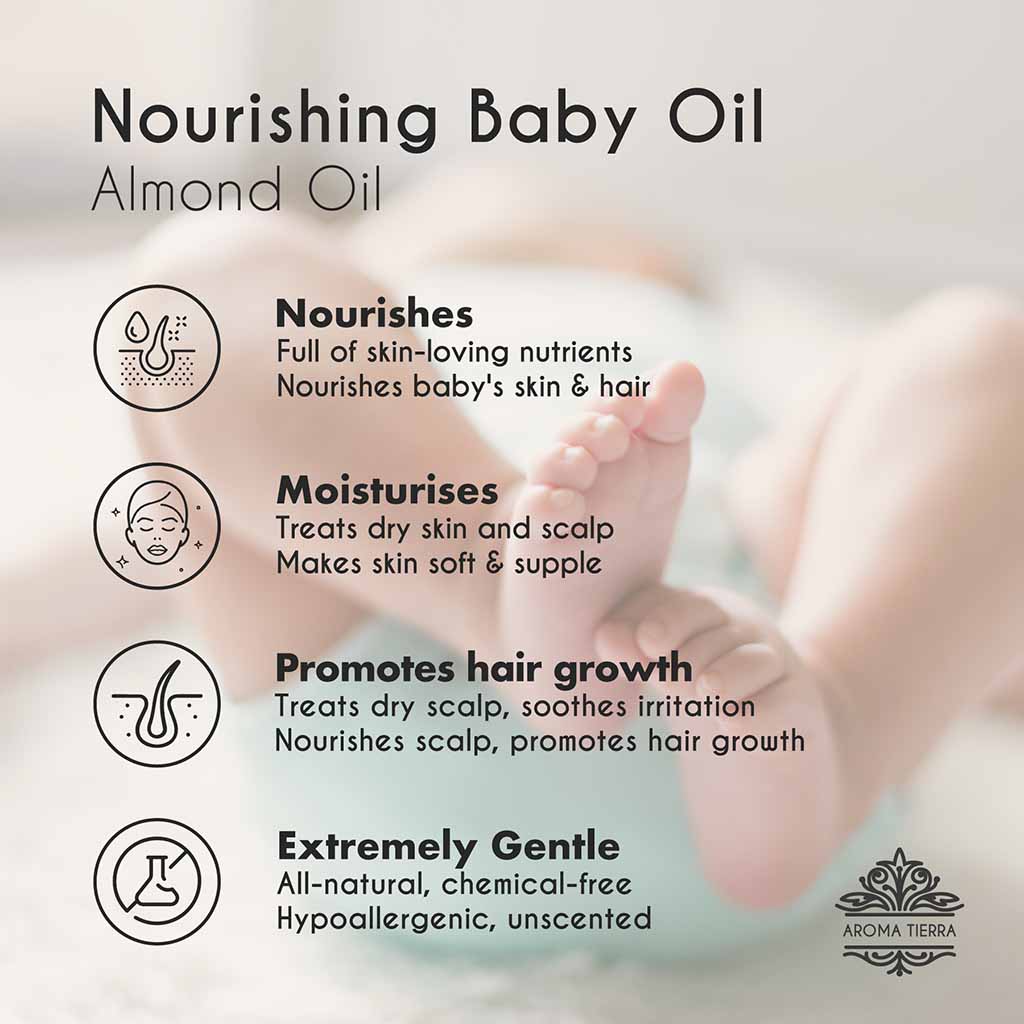 Top Benefits

Face

(Suitable for dry, mature, or sensitive skin; Avoid for acne-prone or oily skin | Comedogenic Index: 2)

Hydrates and revitalizes

Sweet Almond Oil is a great face oil for dry or mature skin types. Its powerful moisturizing and emollient properties make the skin soft, supple, hydrated, and radiant. It addresses dry skin conditions and restores its glow. It is a light oil that is easily absorbed, leaving the skin soft and deeply hydrated. Avoid using Almond Oil on oily or acne-prone skin.

Evens skin tone

Almond Oil has emollient and sclerosant properties, which help improve complexion and skin tone over time. Regular use of Almond Oil can enhance your skin's overall appearance and texture.

Delays aging

Sweet Almond Oil offers potent regenerative and antioxidant properties, which helps to prevent premature aging. Its high vitamin E and antioxidant content combats harmful free radicals and prevents oxidative stress that leads to wrinkles and fine lines. Retinol in the oil encourages new cell growth, minimizing fine lines, age spots, and wrinkles.

Treats dark circles and puffiness

Almond Oil helps lighten dark circles and reduce puffiness, thanks to its anti-inflammatory and antioxidant properties. Vitamin K in the oil helps to minimize the appearance of dark circles by controlling capillary leakage. Vitamin E and retinol encourage cell renewal, helping to lighten the dark circles. You may add Tamanu Oil and Rosehip Oil to make a potent under-eye blend.

Treats dry lips

Apply a few drops of Almond Oil to treat dry, chapped lips. It gets readily absorbed into the skin and makes the lips soft and luscious.

Baby

Baby massage oil

Sweet Almond Oil is an excellent choice for a baby oil as it is entirely natural, hypoallergenic, and very gentle for the delicate baby skin. It is a very nourishing oil with powerful emollient, moisturizing, and soothing properties. It gently moisturizes the baby's skin, prevents dry skin conditions, and soothes irritated skin. The researchers found that using Almond Oil on premature babies improved their skin's thickness and strength, without any side effects.

Body

(Suitable for dry, sensitive, or mature skin)

Moisturizes body

Sweet Almond Oil is a great all-natural alternative to body lotion. It has powerful moisturizing and emollient properties that make the skin velvety soft, supple, hydrated, and radiant. Its high omega 9 fatty acid (~60-70%) content makes it incredibly moisturizing and nourishing for dry and mature skin. The omega 6 fatty acids in the oil helps lock in moisture and safeguards from harsh environmental factors. Apply it generously on your body on damp skin.

Reverses sun damage

Topical application of Almond Oil after sun exposure helps reverse the damage, accelerate healing, and soothe irritation. Research has shown that Almond Oil can prevent the structural damage caused by UV irradiation and is useful in decelerating the photoaging process.

Treats rough hands and feet

With its powerful moisturizing and emollient properties, Almond Oil helps to treat dry and rough hands, feet, knees, and heels. Its zinc content helps smooth rough calloused skin.

Hair

(Suitable for dry, flaky, or sensitive scalp)

Boosts scalp health

Almond Oil promotes scalp health by providing intense nourishment, moisturizing dry scalp, soothing irritated scalp, and preventing dry and flaky conditions. Further, it helps in cleansing the scalp by softening dandruff and loosening its hold on the scalp to get it easily cleaned out in shampooing. Massage the scalp with lukewarm Almond Oil and leave for a few hours before washing it out. Repeat this 2-3 times a week for better results.

Conditions hair

Regular use of Sweet Almond Oil can make the hair soft and silky and improve the overall quality. It fills in the gaps in the hair strands at a cellular level which makes the hair look smoother. It also makes the hair less prone to breakage and split-ends and therefore contributes to non-restricting hair growth.

Protects hair from damage

Almond Oil protects the hair from pollutants, heat damage, and sun damage, thereby promoting glossy and healthy hair. Incorporating Sweet Almond Oil into your hair routine can make your hair easier to comb through and style.

Wellness

Food supplement

Sweet Almond Oil is loaded with vital nutrients such as omega 9 & 6 fatty acids, vitamins E and K, phospholipids, amino acids, zinc, and magnesium. Extremely rich in healthy unsaturated fats, Almond Oil supports health by lowering cholesterol, increasing good fat, promoting a healthy weight, boosting cardiovascular health, and reducing inflammation. High vitamin E helps in reducing oxidative stress and inflammation. It also helps in promoting rectum and colon health.

Soothes skin conditions

Whether you are dealing with redness, skin irritation, inflammation, or itchiness, Sweet Almond Oil can be used as a quick fix to soothe your skin. It is known to have potent anti-inflammatory properties that help calm the skin. Combine it with Tamanu Oil and Rosehip Oil to make a potent soothing oil blend.
How to Use

Face oil: Apply 2-3 drops after cleansing on damp skin

Body oil: Apply generously on damp skin to moisturize

Hair oil: Apply to the hair 2-3 hours before washing

Hair serum: Apply onto freshly washed, damp hair

Wellness: Consume for nutritional benefits

Lips: Apply 1-2 drops to your lips whenever needed
Recipes

Moisturizing Body Oil – Ylang Ylang, Myrrh

Apply generously to moisturize the skin

Almond (100ml) + Ylang Ylang* (10-20 drops) + Myrrh* (10-20 drops)

Brightening oil - Evens skin tone

Apply a few drops twice daily after cleansing

Almond (30ml) + Frankincense (6-12 drops) + Chamomile German (6-12 drops)

Under Eye Roll-on - for dark circles & puffiness

Gently apply under the eyes

Almond (4ml) + Avocado (4ml) + Castor (3ml) + Geranium (4-6 drops)

Relaxing Body Oil - Lavender

Apply generously to moisturize the skin

Almond (50ml) + Jojoba (50ml) + Lavender* (10-20 drops)

Face Oil - for dry skin

Apply a few drops twice daily after cleansing

Almond (15ml) + Rosehip (15ml) + Rose (6-10 drops) + Frankincense (6-10 drops)

Baby Massage Oil

Apply on the baby skin and massage gently

Almond (100ml) + Orange* (5-10 drops) + Chamomile Roman* (5-10 drops)
Why Aroma Tierra's Oil

Aroma Tierra brings the finest Sweet Almond Oil extracted from the almond nuts from organic farming. We use the best quality almond nuts from Spain. Our Sweet Almond Oil is 100% pure, natural, organic, cold-pressed, and virgin, with no further refining or processing to ensure that all the nutrients remain intact. Our Sweet Almond Oil is pale yellow in color and has a very mild characteristic nutty aroma.

Aroma Tierra Sweet Almond Oil is 'Certified Organic' by ECOCERT, a globally reputed certification body from France, that has a stringent evaluation process. Our production standards guarantee that everything from the beginning to the end is organically made and that the oil is free from chemicals, preservatives, solvents, and hexane.

Our careful cold-pressed extraction method ensures that the delicate nutrients of almonds are not destroyed by heat. Further, we do not deodorize, decolorize, or refine our Sweet Almond Oil. Refining the oil elongates its shelf life, but comes at a cost of destroying some of its natural nutrients. Similarly, deodorization rids the oil of its nutty aroma, but it compromises the nutritional profile of the oil. Therefore, we emphasize on using the cold-pressed, non-deodorized, and virgin quality to gain the maximum benefits.

Furthermore, we use specially designed violet-glass bottles to preserve the oil's potency and elongate its shelf life.
Why Organic?

Today, using the term 'organic' is unregulated in most markets and is often misleading. Products labeled as 'organic' offer no guarantee that they are free from synthetic chemicals or pesticides unless certified by a credible independent body. Aroma Tierra organic range is 'Certified organic' by ECOCERT, a globally reputed independent certification body from France that follows very stringent organic certification standards. We ensure that everything from beginning to end is organic – farmland is organic for at least 3 years, seeds are organic and non-GMO, farming is done without pesticides and chemical fertilizers, cleaning agents are organic, extraction is organic, and packaging does not contaminate the organic product.
Shipping Details

UAE:

Standard - Delivery in 1-2 days (Except holidays)
Express - Same day delivery in Dubai

International (outside UAE):

Please note that due to the recent coronavirus outbreak, our international shipping and shipping rates might be affected. Kindly contact us to get the latest update. Thank you for understanding.